Special exhibit "Java Gold": digitization with CultArm3D-P
In August, our experts from the Cultural Heritage Digitization Competence Center spent a week in Mannheim color-scanning gold jewelry (from the 7th to 15th centuries) from the Reiss Engelhorn Museum (rem) in three dimensions using the autonomous CultArm3D-P scanning system.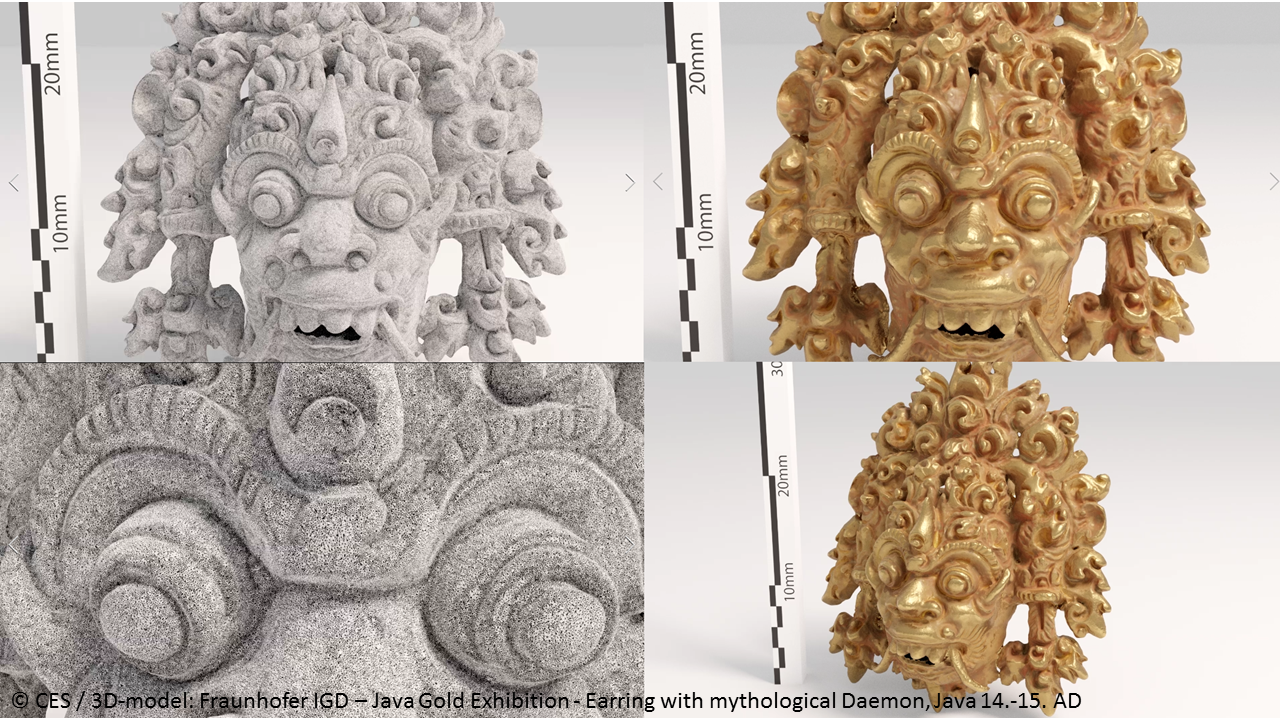 For the first time, photogrammetric procedures were able to generate very high-resolution 3D models of very small objects with highly reflective surfaces, allowing visitors to take in every artful detail of the pieces on large-format, autostereoscopic screens without the need for 3D glasses or other aids. The visitors in Mannheim are not the only ones to benefit: The virtual replicas of real objects in academically high and reproducible quality can be used around the world at the same time.
The CultArm3D-P scanning arm developed at the institute is fully automatic and digitizes both geometry and texture, achieving resolutions up to 20 µm. The objects themselves currently can have diameters down to 50 cm and heights down to 80 cm -- the arm circles around them automatically. Another advantage of the CultArm3D-P is its mobility: In just a few steps, it is packed up and can be set back up at another location. This makes it interesting not only to large institutions but also to smaller museums that cannot afford their own digitization centers and so far have had to transport their valuable artifacts over long distances.
The special exhibit "Java Gold -- The Grandeur and Beauty of Indonesia" starts on September 15 and runs until April 13, 2020 in the Zeughaus building of the Reiss Engelhorn Museum (rem) in Mannheim. The exhibit can be visited from Tuesday to Sunday (11.00 am to 6.00 pm). Open on holidays.