Portugal's science minister visits Rostock
Portugal's minister for science, technology and higher education, Manuel Heitor, was in the Hanseatic city of Rostock from May 10 to 11 to attend various meetings and presentations on the excellent and exemplary multidisciplinary collaboration between science and business taking place there. The visit was an opportunity to highlight the expertise and research work concentrated in Rostock and to establish a basis for cooperation on issues of underwater technology on a European level. The minister's two escorts are heads of research facilities and are highly interested in this kind of cooperation.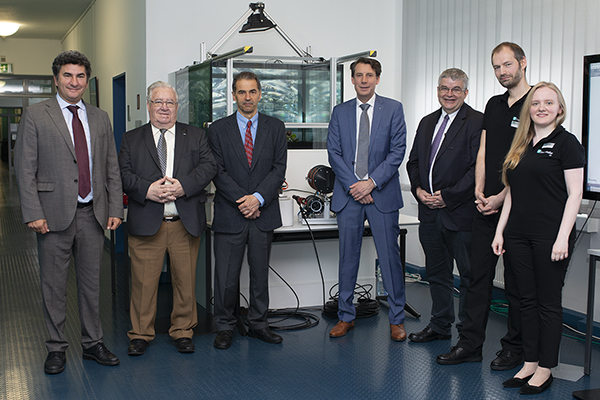 Representatives of Rostock's research institutes (the Fraunhofer Institute for Computer Graphics Research IGD, the Leibniz Institute for Baltic Sea Research IOW and the Thünen Institute for Baltic Sea Fisheries) and the University of Rostock provided insight into their current research topics in the areas of underwater technology and maritime research. Underwater technology companies (Baltic Taucher, Kraken Power) contributed a commercial aspect to the meetings and guided tours. Dr. Wolfgang Nitzsche, President of the Assembly of the Hanseatic and University City of Rostock, and Steffen Bockhahn, Second Deputy Mayor, received Minister Heitor's delegation at city hall, where it signed the city's guestbook.