COVID-19: R&D at Fraunhofer IGD
For many years now, Fraunhofer IGD has developed software solutions that help health professionals and others in the healthcare sector. These include data analysis tools for population studies as well as for forming and comparing patient cohorts. The institute also focuses on the analysis of medical imaging data for extracting biomarkers. Lastly, the visual presentation of data and analytical results also play an important role in our work.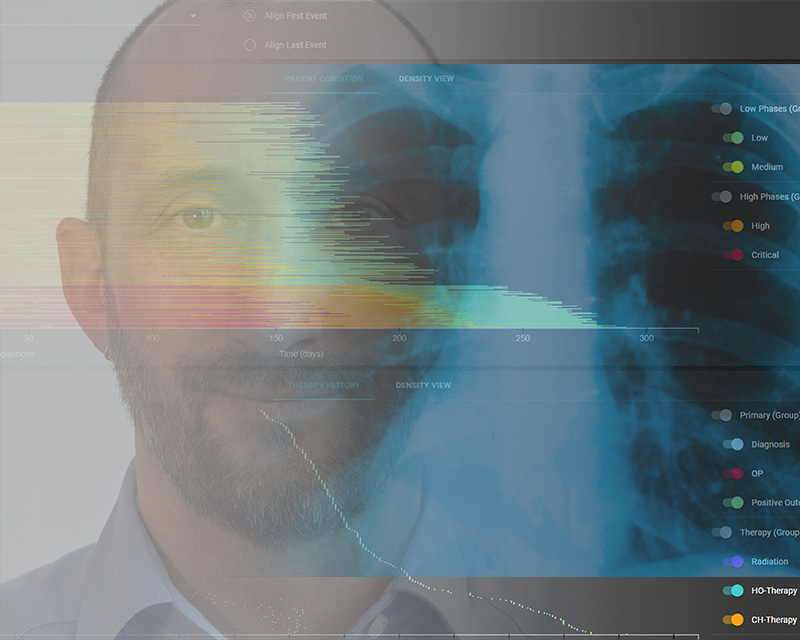 In the context of COVID-19, Fraunhofer IGD's expertise can be used for various issues and the institute is already working on providing appropriate solutions:
Analyzing and visualizing COVID-19 data from German state public health authorities
Developing methods for the exploratory visual analysis of COVID-19 patient cohorts
Classifying and quantifying pulmonary changes in the ultrasound images of COVID-19 patients
Correlating image-based and clinical biomarkers for the early detection of COVID-19 patients with a potentially critical disease progression
Point-of-care ultrasound for COVID-19: details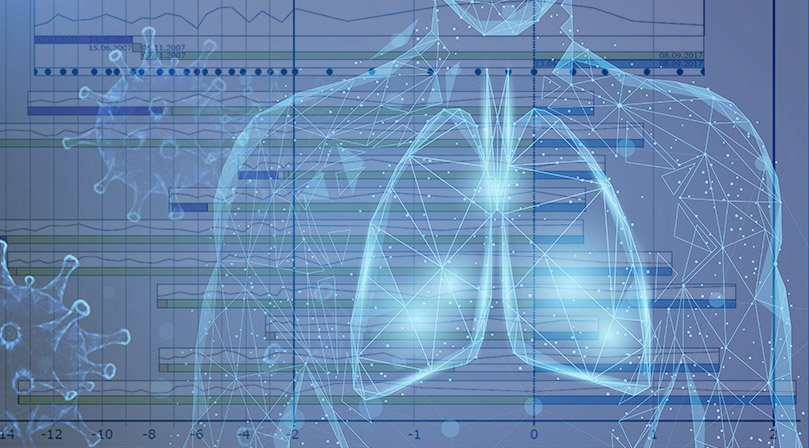 Point-of-care ultrasound (POCUS) is considered by clinical experts to be a suitable imaging procedure for COVID-19. With these images, accentuated restrictions in/damage to the lungs can be detected and analyzed further. However, ultrasound (U/S) imaging data is more difficult to interpret than, e.g., CT images. This plays a special role particularly in the current crisis, since POCUS is often not performed by medical staff that has been specially trained in analyzing the images. On the other hand, the current workload of this group limits the amount of time available for a detailed and quantitative analysis of the U/S imaging data, which is essential for examining pathologies under treatment. Computer-assisted analysis can take on some of this analytical work, derive objective parameters from the U/S imaging data and make them easier to interpret and usable for treatment.
U/S machines are mobile and can be used at the point of care without trouble. For this reason and due to its real-time capability, U/S is good for monitoring changes in lung inflammation under treatment, especially in bedridden ICU patients. Since, in principle, only the head of the ultrasoudn probe comes in contact with a patient, sterilizing a machine after it is used is easy. The German Society of Ultrasound in Medicine (DEGUM) has released a proposal for a standardized lung U/S protocol for COVID-19.
Fraunhofer IGD is working on a software platform for COVID-19 that provides solutions for analyzing and classifying U/S imaging data in accordance with DEGUM guidelines. This can offer direct benefits in the current acute stage of the crisis -- reducing the time needed for analysis and eliminating the need for special training -- while also opening research, especially in relation to U/S imaging data during treatment, up to the possibility of learning much from the current data on the first wave of infections in order to be as well-prepared as possible for the next waves.
Clinical situation control center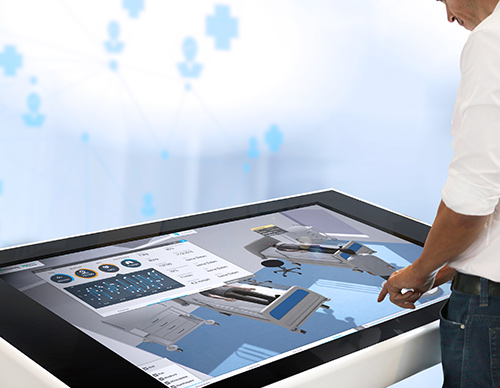 In the current exceptional situation caused by the corona pandemic, physicians and nursing staff face the challenge of following the dynamic events in the ward / clinic and making the right decisions. Health@Hand is a visual control center that visualizes health and administrative data on a virtual image of the real ward or clinic and clearly displays all relevant data for the staff. Health@Hand can interact with all data of the facility via the HL7/FHIR standard and at the same time meets all high standards of security for this sensitive information.
The clinical situation control center collects and clearly visualizes data from various wards and the underlying data management systems (HIS, RIS, PACS). A quick decision on the administrative and medical management of a hospital even in emergency situations can thus be simplified.