New professor of maritime graphics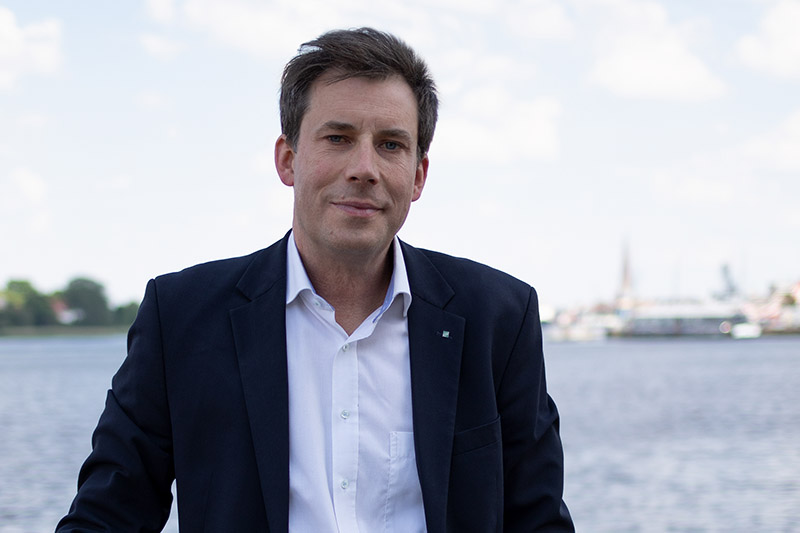 Uwe Freiherr von Lukas is the new professor of maritime graphics in the Department of Computer Science and Electrical Engineering at the University of Rostock. The president of the university, Prof. Wolfgang Schareck, awarded the head of Fraunhofer IGD's Rostock location the title of "Universitätsprofessor", Germany's highest academic title, effective July 1, 2020.
As a child, von Lukas spent a lot of vacations at the coast. Following a degree in computer science in Darmstadt, the native Upper Bavarian finally moved to Rostock in 1994, turning his personal enthusiasm for the sea into his professional passion. As a subdiscipline of visual computing, maritime graphics is all about analyzing and processing imaging data on and under water. As a "traveler between worlds", as he calls himself due to his work in various fields for both university and institute, the computer scientist is looking forward to his new duties at the Institute for Visual and Analytics Computing founded in 2019. With the new chair of maritime graphics comes a subdiscipline that will further strengthen the academic and research opportunities in Rostock. "At the institute, everything is about collecting, analyzing and visualizing vast quantities of data. Maritime graphics is an applied subfield of visual computing characterized by particularly high data volumes and diversity," explained von Lukas. The Digital Ocean Lab, currently under construction off the coast of Mecklenburg-West Pomerania, will supply measurement and sensor data from the Baltic Sea for a wide range of research projects. "The institute is the ideal environment for research in the areas of machine learning and simulation, and I'm looking forward to working closely and exchanging ideas with my new colleagues," von Lukas said.
In 2010, von Lukas was appointed an honorary professor of virtual product development, and he is also a member of the multidisciplinary faculty of the Maritime Systems department. "I believe, in the future, we will more and more frequently get to the point where a single discipline alone can't deliver the desired solution," said von Lukas, stating that multidisciplinary collaboration and classical separation of structures would be just the right approach. Multidisciplinarity is also the core concept of the Ocean Technology Campus, toward which von Lukas has been working for years as one of its masterminds. The goal is within reach, with one of the first multidisciplinary research groups from the Fraunhofer-Gesellschaft beginning its work at the fishing port in August. The university will also have a research group for the subject. "Fundamental research at the university and applied research at Fraunhofer will soon go more hand in hand; both sides can only benefit from even closer cooperation," von Lukas said in consideration of the diverse activities underway in Rostock to strengthen innovative underwater technology.
Von Lukas' professional path in Rostock began as a research associate at the Center for Computer Graphics (ZGDV) before taking over its CAD & Teleservices department in 1999. After receiving his doctorate from the University of Rostock, he assumed control of ZGDV's Rostock office. At the start of 2009, he moved over to the Fraunhofer Institute for Computer Graphics Research IGD and has since been in charge of its Rostock location, which he will continue to do in addition to his new duties. He is a member of the executive boards of the Subsea Monitoring Network and Rostock denkt 365° e.V., and is a member of the advisory board of the German Association for Marine Technology. His research focuses on machine learning in underwater image processing, interactive data visualization, and network-based technology transfer and regional development.