Fraunhofer software: visualizations for efficient urban planning
Urban planning in the era of the "Smart City" is only promising if it includes everyone involved digitally and in an uncomplicated fashion. Following pilot stages and practical tests, Fraunhofer IGD has developed two digital urban planning systems that are now available for use in any municipality.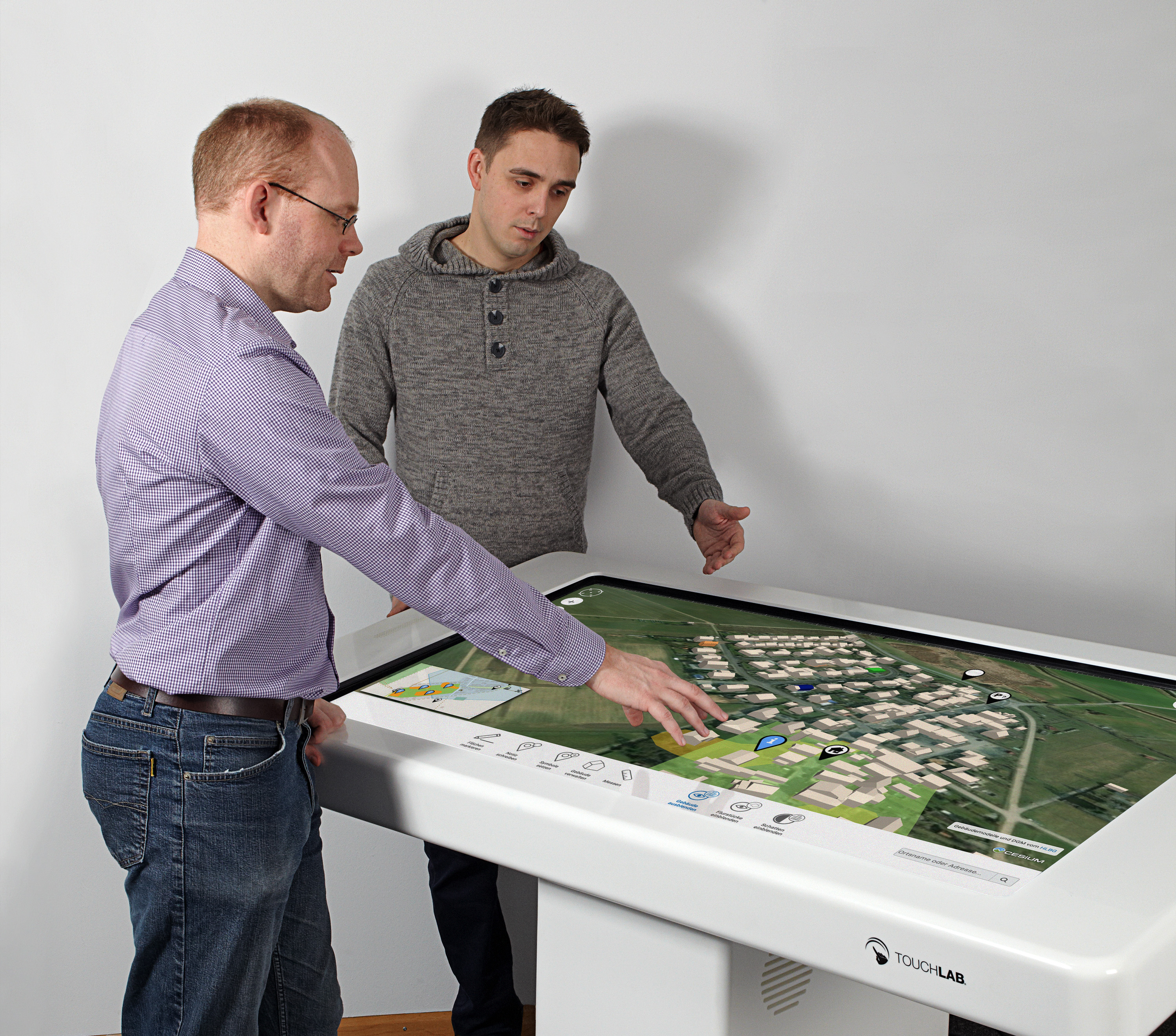 Particularly in more rural areas, old downtown areas are facing collapse from falling numbers of inhabitants, demographic change, and the development of new residential and industrial areas in the suburbs. Effective revitalization requires long-term, resource-saving ideas from residents, property owners and politicians about how to historic districts can be preserved and structurally upgraded.
New life for historic city centers
As part of the AktVis project, the Fraunhofer Institute for Computer Graphics Research IGD has developed an interactive 3D web application for exchanging and discussing ideas for future urban development. The application uniformly processes the diverse geodata of a municipality and integrates it into an interactive visualization environment. This significantly increases transparency throughout the planning process and facilitates communication between city planners, architects and infrastructure companies, as well as with residents. The realistic view of buildings and rows of houses on a multitouch table was also the basis for public hearings in three municipalities in Hessen, with whose participation the interactive tool was built. Following completion of the project, funded by the Federal Ministry of Education and Research, there is now a functional, final version of a WebGIS application for planning workshops and participatory processes that will soon make empty lots, vacancies and modernization backlogs in inner cities a thing of the past. It even includes features for examining profitability and current building laws, making it possible to test the feasibility of ideas in real time. The tool can even be used in location marketing and business development.
Public involvement ensures new project acceptance
As part of the EU project smarticipate, Fraunhofer IGD has developed a platform the public can use to submit ideas for developing their own neighborhoods online. By connecting to the data sources available for urban planning, users get direct feedback on the feasibility of their ideas. The advantage of this is that the city government ends up only with ideas that are feasible in principle and that will also be accepted by the public later on. Including the public in the decision-making stage reduces the risk of bad investment. The result is a smart system whose vivid 3D visualizations and feedback functions make it easy to use. The application has been tested in specific case studies in Rome, London and Hamburg. "Smarticipate can be used anywhere you want the public to have the chance to get immediate feedback on their proposals and anywhere you want the management of these processes to be automated," summarized Dr. Nicole Schubbe from Hamburg's state geoinformation and survey agency with regard to the use of the software tool. The Hanseatic city is currently reviewing how to integrate the feedback function into the city's own participation program. Following completion of the project, smarticipate is now available as a platform where users can license the fully programmed case studies or get involved in developing original scenarios. A spin-off is being planned for final product development and marketing¾other cities, including Vienna, have already shown interest in using smarticipate.
Smart City - innovative, digital and sustainable
Fraunhofer IGD is presenting its applications and services pertaining to the "Smart City" at September's INTERGEO trade fair in Stuttgart. Its main expertise, visual computing, helps optimize infrastructure and provide sustainable development in the urban space. The result is smart services for digital city management, safety and resource planning, environmental monitoring, building management and analysis, optimized traffic planning and customized mobility. Fraunhofer IGD develops technology for data integration and exploration, processes large volumes of data in the cloud and runs big data analytics. Its portfolio also includes the analysis of sensor data as well as the generation and optimization of three-dimensional visualization and simulation.