Crosslinking and analyzing health data for the purpose of prognosis
Artificial Intelligence as an aid to making medical decisions
Smart algorithms help doctors in the background, saving time, maintaining objectivity and requiring no additional effort. Automated anomaly detection, smart cohort analysis and virtual biopsies – Fraunhofer IGD is presenting its AI-based solutions for the healthcare sector at the medical trade fair DMEA in April.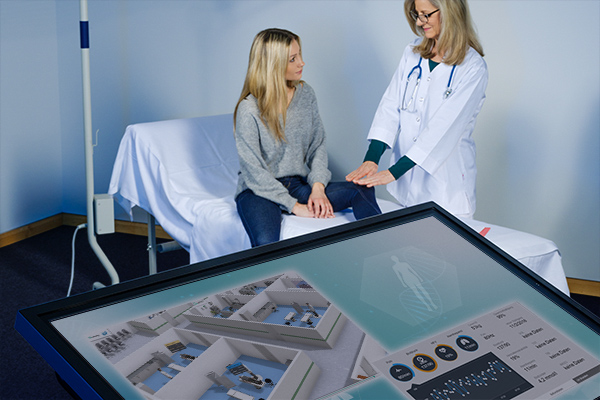 (Darmstadt/Berlin) The strengths of artificial intelligence (AI) lie in recognizing patterns in complex, difficult-to-manage quantities of data and making health-related predictions. Already established in industry in the form of predictive maintenance, anomaly detection is finding its way into medicine. At the healthcare fair DMEA in Berlin at the beginning of April, the Fraunhofer Institute for Computer Graphics Research IGD will introduce Data@Hand, a cloud-based analytical tool that uses AI to examine health and process data and find deviations from the ideal.
Anomaly detection thanks to self-learning algorithms
Machine learning models are trained to identify the healthy state of a human being. During this process, patient data is processed in real time. When a smartwatch records vital signs, for example, Data@Hand analyzes the data streams and forwards them, along with any detected anomalies, to the visual assistant application. This highlights for doctors levels that are particularly anomalous and they can make their medical diagnosis using easily accessible data. The researchers at Fraunhofer IGD show how smart analysis with Data@Hand coupled with the visualization of critical conditions produce real added value from simple data collection. Experience from the predictive analytics approach are directly applied to treatment plans and prognoses for success of treatment. Data@Hand works in the cloud, completely in the background, and requires no operating skill or training from users. As a reference implementation, it operates upstream of existing interfaces or visual systems, such as Fraunhofer IGD's own Health@Hand.
Medical findings through cohort analyses
Data-based medicine incorporates a growing quantity of information on disease progressions and patients into the decision-making process. The more comparative data on different patients and cases is available, the more accurate the analysis of an individual case can be – this is the basic assumption behind visual cohort analysis, another technology by Fraunhofer IGD that will be presented at DMEA. The software tool combines data from people with similar clinical pictures, disease progressions or characteristics such as age or gender into special cohorts. It then uses AI to search them for significant correlations and identify clinically relevant hypotheses – all in the background and in seconds.
AI makes virtual biopsies possible
Artificial intelligence can also assist in evaluating medical imaging data. Three-dimensional imaging data, such as MRIs or CT scans, provide information on the shape and location of bodily structures and tumors. Manually evaluating the images is extremely labor-intensive and time-consuming. Special software by Fraunhofer IGD helps health professionals with this analysis and even generates a "virtual biopsy" automatically by localizing and highlighting the tumor, displaying it in three dimensions and analyzing the data. In this way, the images provide information that would otherwise only be obtained from a biopsy.
Digital patient model
To fully exploit the advantages of AI and its analytical capabilities, it is essential to bundle all available information about a patient. A Fraunhofer flagship project began at the end of 2018 under the coordination of Fraunhofer IGD with the goal of creating a holistic digital patient model. The project focuses on both improving treatment of individuals and smarter use of health information. The researchers' vision is to provide medical data along the entire treatment chain, from preventive care to diagnosis, treatment and follow-up care with just a click. One important research aspect of the flagship project, to which seven research institutes are bringing their scientific excellence and interdisciplinary expertise, is the development of new machine learning methods.
Fraunhofer IGD at DMEA (formerly conhIT)
Berlin, April 9-11, 2019
Hall 2.2, Stand E 109