Digitally assisted worlds of work
(Darmstadt/Hanover) Fraunhofer IGD is presenting its IT solutions for digitized industry at Hannover Messe 2019. At two stands, the leading research institute for visual computing is demonstrating smart data analysis, interactive simulation solutions and AR applications for the construction industry.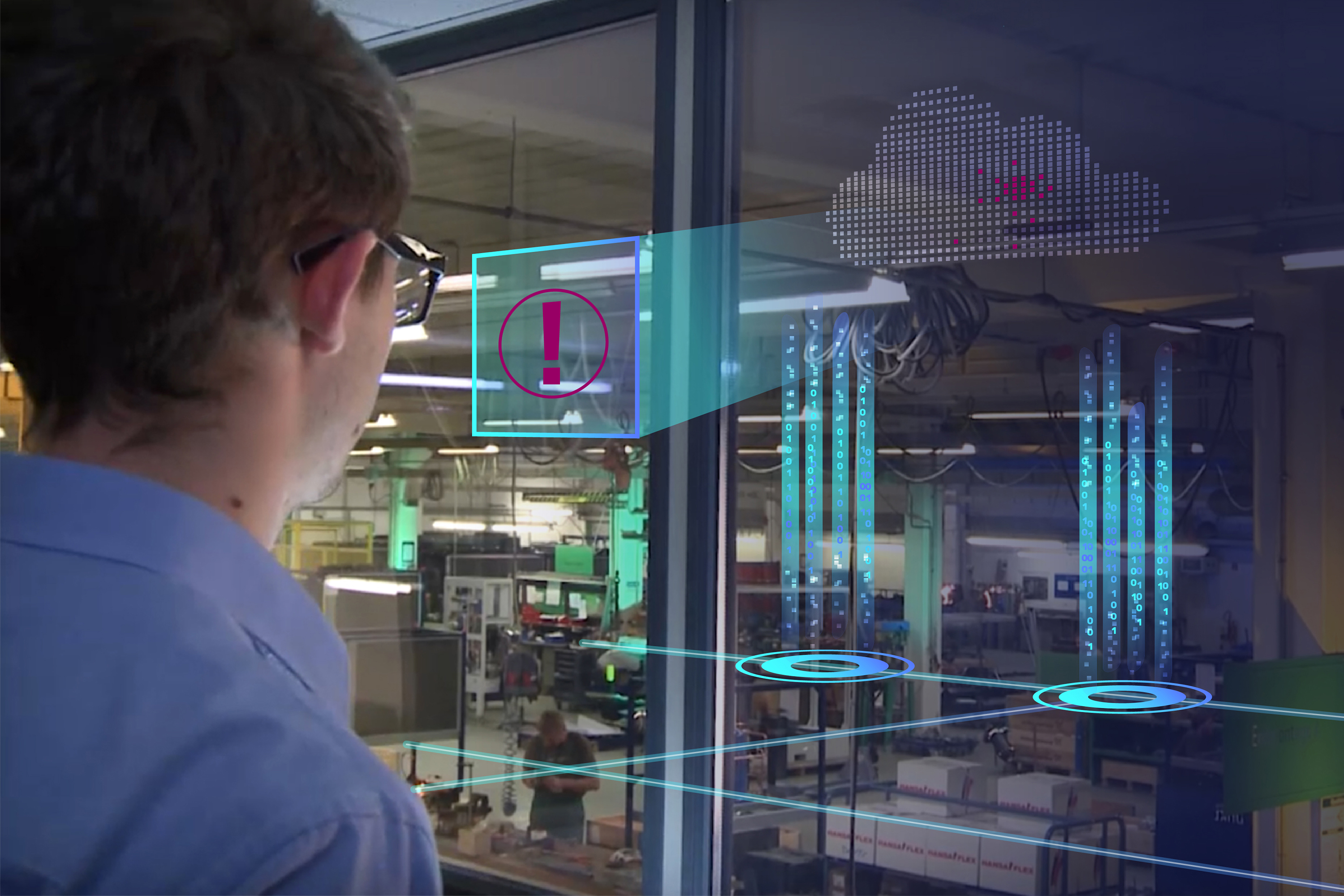 Industrial intelligence optimizes operating states
At this year's Hannover Messe trade fair, the Fraunhofer Institute for Computer Graphics Research IGD is presenting Data@Hand, an AI-based information and data tool for optimizing industrial process chains. Based on machine learning, data is evaluated faster and anomalies detected earlier. Connecting to the cloud and using artificial intelligence makes it possible to detect deviations from the normal operation of a system without the pattern ever occurring in that particular system. Data@Hand grows continuously, learning how to recognize normal states and deviations by itself, and making it possible to respond to operating states that have never occurred before. Automated analyses can be performed directly on the machine not only with a powerful, server-based platform but also with the smallest mobile systems. Hannover Messe will have a demo of how smart analysis and visualization of critical states can produce real added value from simple data collection. The obtained data can be used not only to analyze the cause of problems but also to predict malfunctions.
Interactive simulation accelerates design process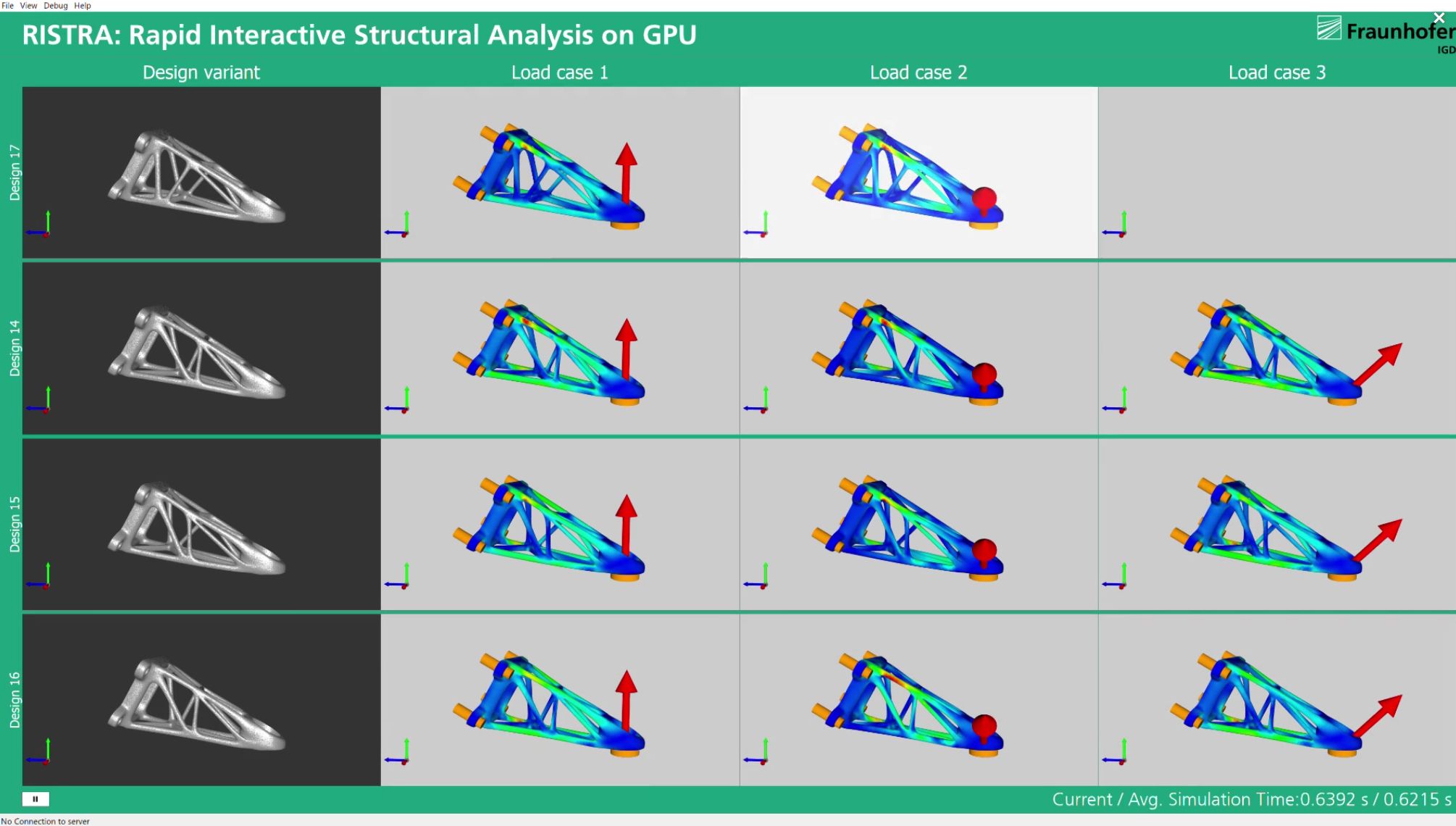 With RISTRA (Rapid Interactive Structural Analysis), Fraunhofer IGD is presenting a GPU-based structural mechanics solution that accelerates component simulation and optimizes the design process. It started with a vision of using simulation to assist in the design of a component while at the same time testing its stability, all in a single work step. The direct feedback leads to an intuitive work method and better results, not only in terms of required development time but also in terms of design quality, since several iterations are possible on the path toward the optimal design. In a comparison test, RISTRA computed a model with more than 1.3 million finite elements more than 80 times faster than a commercial simulation software program. The software tool can significantly accelerate design and engineering processes by pushing all simulation computing onto the graphics card. The effects of given loading cases on the component's structure are visualized in false color in near-real time. The software was firtst licensed by Meshparts GmbH.
Uniform software standards support connected construction projects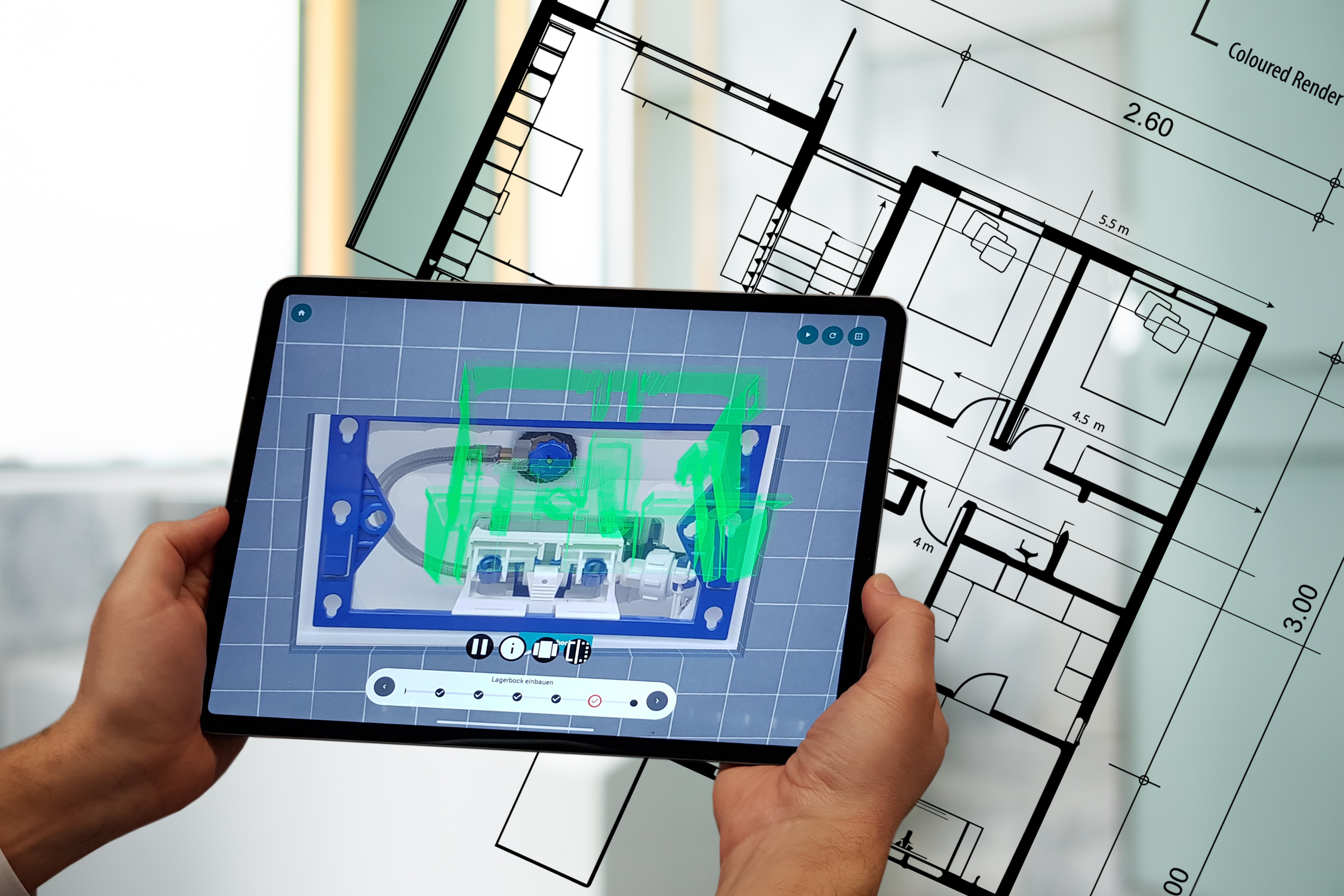 To assist in fully digital project management for planning, constructing and managing buildings, the BIMSWARM project developed a platform for easily connecting different applications, services and content. The focus is on making it easy to choose and combine different software tools for one-off business partnerships, which are common especially in the construction industry. The platform suggests suitable tools depending on the circumstances, thereby helping avoid differing software standards within a partnership. Fraunhofer IGD has implemented its visualization and tracking services in the platform using its instant3Dhub technology, which can format and process large data models is an extremely short time¾making it possible to compare reality to the CAD model of the building in real time and open various possibilities. Developers can create building progress documentation in the form of ad hoc planned/actual comparisons, evaluate them and communicate them to everyone involved. A planned ticket system gives installers specific instructions for a building system and transparently documents progress. The use of augmented reality (AR) in various stages of construction, from planning to maintenance, is made easy, even on a tablet, thanks to Fraunhofer IGD's compression and visualization performance. The BIMSWARM sponsorship project is part of the technology program "Smart Service World II", which is funded by the German Federal Ministry for Economic Affairs and Energy.