Smart living: networked sensors
Fraunhofer IGD has developed software that networks various sensors together to detect domestic situations and perform actions, primarily helping older generations in everyday life. Connecting these sensors to an alarm system eases the burden on nursing staff, helps family members and optimizes medical care.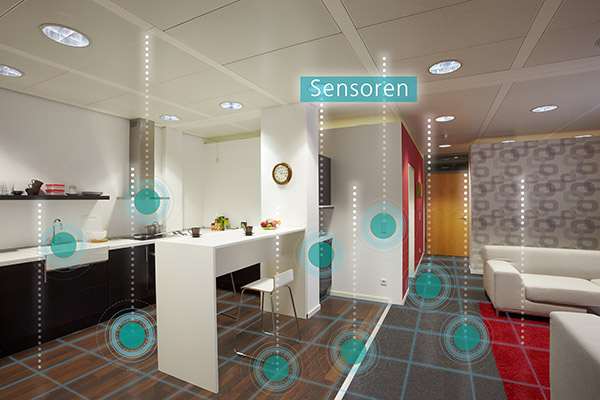 (Darmstadt) The Fraunhofer Institute for Computer Graphics Research IGD develops smart living technologies for nursing facilities and private residences. A wide range of sensors networked together can make life easier, increase safety in everyday independent living and improve medical care. The controller, called "uCORE", together with the software "uLive" uses the connected sensors to detect various predefined situations and trigger set custom actions.
Away from numerous single solutions and toward one networked system
Many of the sensor systems on the market are isolated applications from individual manufacturers. This makes it impossible to combine various sensors and devices with each other and can be an obstacle to housing complex management purchasing equipment. Fraunhofer IGD's uCORE controller overcomes the incompatibility of various standards and products, allowing any devices and sensors from any manufacturer to be combined at will and orchestrated on a logical level that completely separates the application from the device, achieving a previously unheard-of flexibility. Embedded in an open system, single components such as smart floors, motion sensors and other devices can monitor a large area in concert. Additional components can also be added to the existing system, keeping it optimized to the user's needs for a longer period. The user interface can be used to change individual settings, though this would not be mandatory. The goal of uCORE is to run in the background unnoticed and only provide those who want to change the default settings the uncomplicated opportunity to do so.
A system not only but also for emergencies
In a sensor-based situation detection scenario, a nightlight automatically coming on when a person leaves bed brings comfort and safety. But what about if that person does not get back in bed? In this case, an integrated alarm system puts a chain of emergency reporting actions in motion. First, the system uses a local loudspeaker system to place a check-in call to the room, giving the occupant or patient the chance to give the all-clear themselves. If there is no feedback through the intercom system, the incident is forwarded by phone, depending on the defined emergency chain, to the nursing staff, a neighbor, or a family member. A helper who confirms their availability can use the integrated handsfree device to speak directly into the residence or room and ascertain the situation. In the event this person is looking after things themselves on site, the system opens the door for authorized persons. In supervised facilities, this emergency reporting chain allows staff to respond more quickly and in a private residence, it creates peace of mind for the family members of seniors living alone.
First tests passed
The basis of reliable situation detection is the ability of software to free data and functions coming from a broad range of sources from the technical details of integration and link them together. This "glue" between the nodes of this system (whether software or hardware components, such as sensors and actuators) is the base technology "universAAL IoT", which Fraunhofer IGD has been developing with various international partners over the past 10 years and has tested in practice in pilot projects. Since 2017, over 50,000 different IoT devices have been in use in the living quarters and nursing homes of 7 EU countries and no longer just in the lab as part of the "ACTIVAGE" project. "For our software, practical use in pilot projects means that we have run through countless real-life situations. This has contributed enormously to not only the optimization of the technical side but also to the semantic side -- the contexts needed for the system to detect the situation correctly," explained Saied Tazari, the system architect of uCORE. Once uCORE has proven itself in practice, the system will become available to all nursing facilities and multigeneration households through a planned spinoff of Fraunhofer IGD. With its diverse possibilities, the uCORE controller makes it easier for individual project developments with end users, management, nursing facilities and residential planners to offer new connection options that were previously only conceivable in isolation. Thanks to universAAL IoT as the underlying Software, uCORE provides a kind of operating system for the ICT infrastructure in residential buildings, which enables the synergetic combination of assistance with energy supply, security and entertainment, much in line with the spirit of the digital era.