2nd Digital Ocean Convention Rostock: Four prestigious institutions united by Memorandum of Understanding
On the occasion of the 2nd Digital Ocean Convention (DOC), the Canadian Centre for Ocean Ventures & Entrepreneurship (COVE) and the Ocean Innovation Norwegian Catapult Centre have signed up to the Memorandum of Understanding already agreed between Germany's Subsea Monitoring Network e.V. and GCE Ocean Technology based in Norway.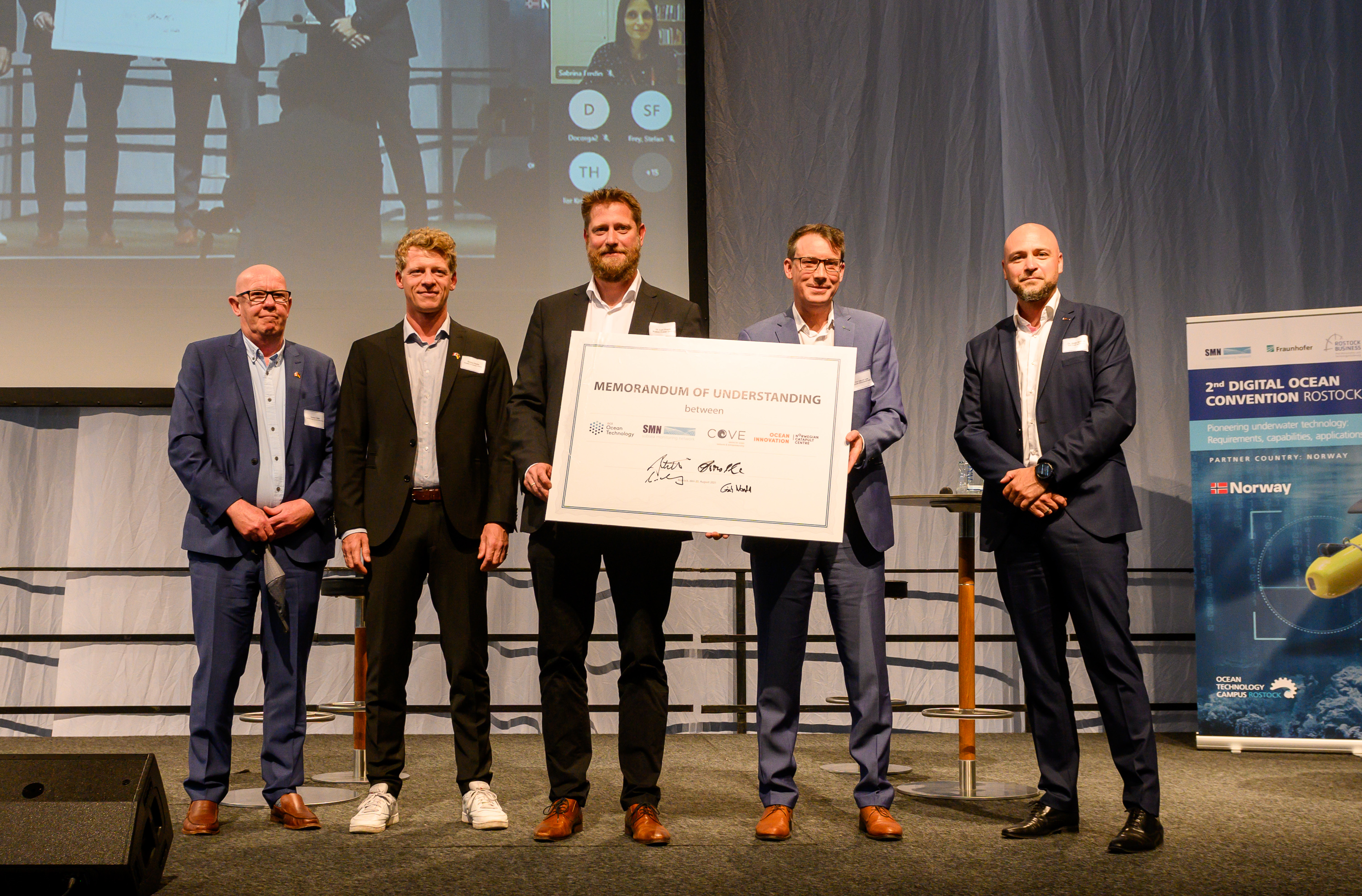 The agreement between the members of this international network is aimed at driving forward new marine technologies and ensuring their sustainable use. In particular, it covers the exchange of skills and experience, the transfer of knowledge and findings, the development of cross-organizational internships and research projects, the mutual use of test infrastructure and the planning of joint events.
To this end, there will be regular working meetings to prepare, supplement and evaluate specific undertakings at home and abroad. These are intended to facilitate the development of joint projects and collaborative ventures and to make an active contribution to politics and civil society in Germany as well as in the partner countries. The Fraunhofer Sustainable Subsea Solutions performance center was instrumental in bringing together the partner organizations in the quest for sustainable use of the oceans, in establishing the requisite technological developments and in strengthening international exchange in the interests of sustainability.
On 25th August 2021, an agreement to this effect will be signed by Melanie Nadeau, P.Eng., ICD.D for COVE; Dr. Gisle Nondal, CEO Catapult Centre & R&D Manager, GCE Ocean Technology, Norway; Dr. Carl Thiede, Chairman of the Board of SMN e.V.; and Prof. Dr. Uwe Freiherr von Lukas, Vice Chairman SMN e.V.
Further details about the signatories
GCE Ocean Technology is an industry-driven initiative in the field of marine engineering subscribed to by more than 120 partners and members from industry, academia, R&D, government and technology transfer agencies. GCE Ocean Technology holds Cluster Management Excellence Label GOLD certification. In addition, the cluster is a key player in the Ocean Innovation Norwegian Catapult Centre, a newly established competence, prototyping and testing facility for the marine industry.
Ocean Innovation Norwegian Catapult Center is a non-profit organization that supports companies in the maritime industry in the development of prototypes. It provides expertise, networking and equipment for testing, visualization and simulation to transform innovative ideas into new products and services.
Centre for Ocean Ventures & Entrepreneurship (COVE) is a collaborative facility for applied innovation in the marine sector with the objective of advancing Canada's blue economy by providing marine infrastructure, a co-working space and programs for the creation and establishment of marine businesses.
Subsea Monitoring Network e.V. is one of Germany's leading business networks for innovation in subsea technology. The association sees itself as a platform for the entire value chain of the industry and works to strengthen it through active lobbying, networking and the pooling of information and know-how. The focal point is the Ocean Technology Campus Rostock with its resident companies, research facilities and Fraunhofer Digital Ocean Lab.