Fraunhofer Austria founds "KI4LIFE" innovation center in Carinthia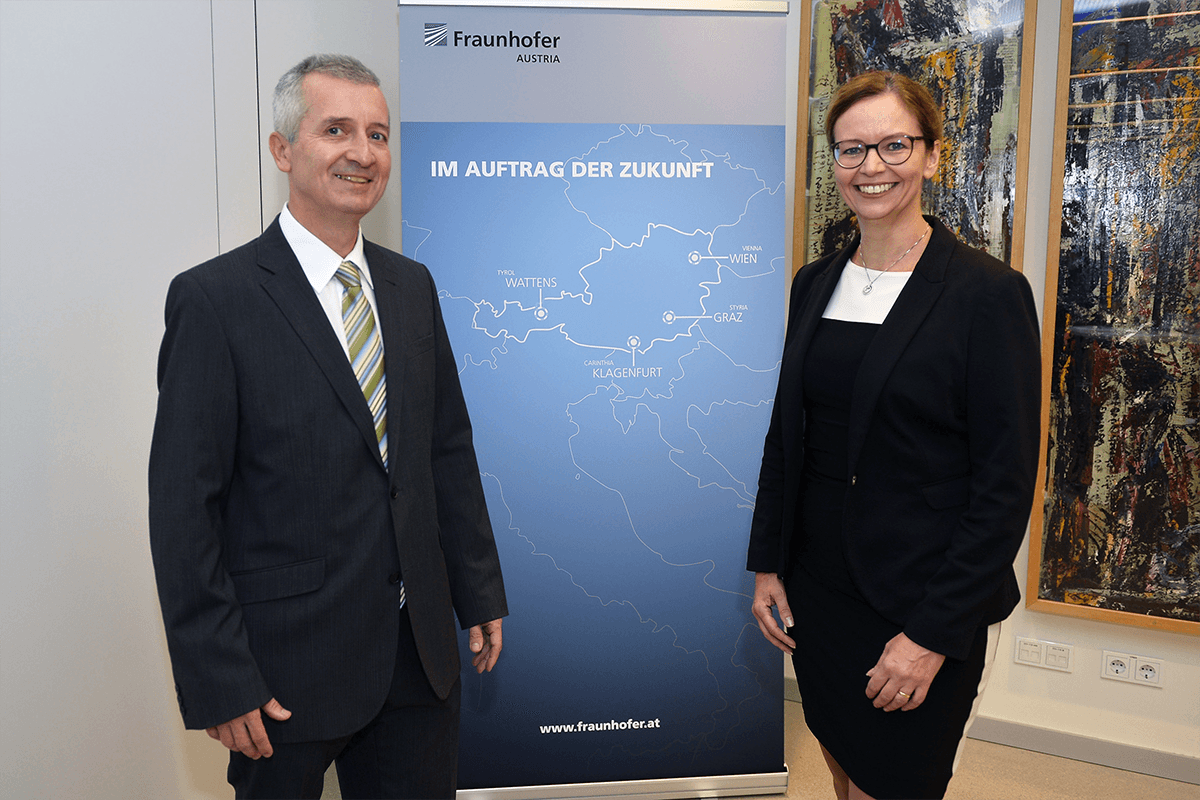 Since its founding in 2008, Fraunhofer Austria Research GmbH has helped companies of every size and in every industry as an independent partner with know-how and expertise. Now added to their locations in Vienna, Graz and Wattens, where more than 70 employees are currently working on application-oriented solutions, is an innovation center for digitization and artificial intelligence called KI4LIFE in Klagenfurt. Since October 1, 2019, a launch team of researchers has been on site working on specific solutions to assist businesses in Carinthia with the challenges of digitization. When complete, the number of workers will grow to 15 full-time employees with additions planned to bring that number to 30 over the long term. The innovation center will initially be located in the immediate vicinity of the University of Klagenfurt, at Universitätsstrasse 102, before moving to Lakeside Park in July 2020.
The center was made possible by an alliance of strong partners: Fraunhofer supplies unparallel know-how and a network of 72 institutes and over 26,000 researchers worldwide, leading businesses in Carinthia such as Infineon Austria bring their expertise, their network and their demand to the table, the Chamber of Commerce of Carinthia along with the Austrian Chamber of Commerce and the Federation of Austrian Industries establish a direct link to businesses, and the city of Klagenfurt and the state of Carinthia strengthen the center with their support. Seven research groups from the Department of Technical Sciences at the University of Klagenfurt conduct research related to the center's mission and will unlock synergy through collaborations. Beyond the current consortium, cooperation with Joanneum Research and the Carinthia University of Applied Sciences are planned in the future. With its application-oriented research, KI4LIFE will bridge the gap between university research and industry.
Cooperation with the university, which comprises cooperation on challenging industrial projects in addition to scientific exchange, is one of the three pillars of the KI4LIFE's job profile. Another core pillar is contract research conducted for projects that forms the scientific foundation of the center. The final pillar is the analytical and consulting services for small and medium-sized enterprises, making use of instruments available in Austria such as consulting checks. Employee development and education play a major role in every area of the center's operations.
Comments from the partners
"The center's goal is to help businesses with digitization to ensure their sustainability and tap into new methods for these businesses using machine and artificial intelligence. The methodical approach is based on Fraunhofer's proven bridge building between science and industry. In combining expertise with machine intelligence from data, we see a major opportunity for Carinthia as a business location."
Prof. Dieter W. Fellner, CEO of Fraunhofer Austria
"The innovation center KI4LIFE by Fraunhofer Austria will especially help Carinthian commercial and industrial enterprises through methods of artificial intelligence in a wide range of application areas. With AI, new fields of application, new business models and process improvements will be realized not only for industrial companies but in other sectors as well, such as tourism or healthcare and nursing. In addition, through cooperation on joint projects with researchers from other institutes, such as the University of Klagenfurt or Joanneum Research, forward-looking basic research will be conducted and application-oriented developments made at the international level. KI4LIFE will become an internationally recognized beacon of AI research and bring international recognition to the state of Carinthia."
Prof. Wilfried Sihn, CEO of Fraunhofer Austria
"An institute of the Fraunhofer-Gesellschaft taking up residence in Carinthia is yet another internationally visible sign, since it's an internationally renowned organization for applied research that is a leader in Europe. It once again speaks to the growing attractiveness of and confidence in Carinthia as a location, while also providing the state of Carinthia with proof that we not only can keep up with the best of them as a business location by international standards, we can even lead the way. With Fraunhofer coming here, our state will take on a leading role in Europe together with, for example, Infineon, Joanneum Research, Lake Side Park, Silicon Austria and many others in developing seminal components and solutions."
Dr. Peter Kaiser, Governor of Carinthia
"With this collaborative effort, we were able to bring another strong research institute to Carinthia. We've been working continuously and successfully since 2013 to take Carinthia from latecomer to star pupil in R&D¾and always with strong partners at our side, such as Joanneum Research's robotics institute, Lakeside Labs, Wood K plus or Silicon Austria Labs. The funding put up for the KI4LIFE innovation center by the state of Carinthia will be invested into basic research and into building alliances with local small and medium-sized businesses. It's tremendously important to raise awareness about digitization with our Carinthian SMEs and to increase their potential for innovation."
Dr. Gaby Schaunig, Lieutenant Governor
"The Carinthian economy should derive maximum benefit from the potential of the two prospects of digitization and artificial intelligence. Only this way will this business location remain competitive and successful in the future. Especially for the backbone of Carinthia's economy, our many small and medium-sized enterprises, the Fraunhofer innovation center provides relevant know-how and practical solutions for more economic growth through innovations in the age of AI and digitization."
Sebastian Schuschnig, Minister of Economic Affairs
"I'm proud we've been able to bring this internationally renowned research institute to Klagenfurt. It's an important contribution to the servicing and support of the Carinthian economy and its businesses, and ensures the location of Klagenfurt am Wörthersee will be strengthened and advanced through the combination of research, education and enterprise at the Lakeside Parks location. It is our common goal to position and further develop Klagenfurt am Wörthersee as an attractive location for innovation in the heart of the Alpe-Adria region. As the state capital, Klagenfurt am Wörthersee offers an attractive working and living environment where the founding of new, trendsetting businesses can be promoted to give youth future prospects and secure jobs. The Lakeside Park location is a platform for business, research and education that offers adequate room for growth and where multidisciplinary development approaches to education and research as well as to business development converge. The arrival of Fraunhofer is a boon for this location. The institute, which offers research for business practices, will also become a gateway to other research institutes, such as Joanneum Research, Lakeside Labs, the Austrian Institute of Technology, the Alpe-Adria University and the Carinthia University of Applied Sciences, which are already established at this location. With its support for this facility, Klagenfurt underscores its focus on research and education in line with its mission to become a SMART CITY."
Dr. Maria-Luise Mathiaschitz, Mayor of Klagenfurt
"Digitization is a very significant opportunity. Worldwide, artificial intelligence is a key strategic factor, its technological and economic potential is enormous across all areas of society. That's why it's all the more important for key players in business, research, education and politics have now come together and created a unique opportunity to bring Fraunhofer's 'KI4LIFE' innovation center to Carinthia. Infineon did a lot to make that happen. With its expertise, Fraunhofer will provide all businesses in Carinthia¾both small and large¾comprehensive innovation capabilities that will make us more competitive on the world stage. We're sending a powerful signal from which the entire ecosystem in the region and beyond will benefit."
Dr. Sabine Herlitschka, CEO of Infineon Technologies Austria AG
"For us as the chamber of commerce, it's important to take our small and medium-sized businesses along on this journey into digitization and into the future of artificial intelligence. Carinthia's new Fraunhofer innovation center KI4LIFE, the fourth in Austria, by the way, will use its trained experts to make it easier for Carinthian SMEs to undertake tangible research and development projects in order to bring digitization and, with it, the future to our businesses."
Jürgen Mandl, President of the Chamber of Commerce of Carinthia
"As the ACC, we see this project as an important building block in shaping Austria's AI landscape. We don't need just digital pioneers, we also need digital users to broaden the digital transformation. Almost 100 percent of companies consider themselves "digitally oriented", however their full potential isn't being utilized since many SMEs don't have the resources and know-how necessary. KI4LIFE is an important docking station for our businesses here to become a successful part of the innovation location of Austria.
Mariana Kühnel, Deputy Secretary-General of the Austrian Chamber of Commerce (ACC)
"Artificial intelligence is revolutionizing the production industry. The University of Klagenfurt is already focusing heavily on it. We expect the new Fraunhofer institute "KI4LIFE" to reinforce the bridge to industry, especially to small and medium-sized enterprises, whose competitiveness will improve considerably as a result.
Timo Springer, President of the Federation of Carinthian Industries
"The University of Klagenfurt places great emphasis on IT, digitization and artificial intelligence: With our technical department, the new interdepartmental Digital Age Research Center (D'ARC) and Lakeside Labs, we stand for excellence and innovation in research and education. Fraunhofer's KI4LIFE innovation center directly on campus opens up outstanding possibilities for cooperative developments at the crossroads of research, business and society. At the center is man."
Prof. Oliver Vitouch, President of the University of Klagenfurt