Dissertation award: Naser Damer recognized
In his dissertation, Dr. Naser Damer examined the question of how biometric recognition could be made even more secure. Now his efforts have paid off: At the INFORMATIK 2019 symposium, he won third prize for best dissertations from the Fraunhofer ICT Group.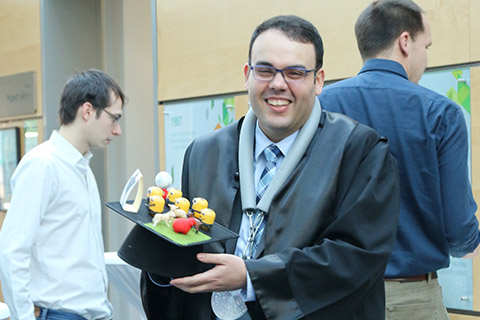 Multibiometric authentication
We've been used to mandatory biometric passports for some time now. So long that crooks have long since found practical ways to pass biometric checks with forged IDs. In his dissertation "Application-driven Advances in Multi-biometric Fusion", Dr. Damer conceived of a forgery-proof person recognition concept: multibiometric authentication. By including multiple features (e.g., fingerprint, iris and face), reliability, recognition rate and security against manipulation are all improved. He's also fleshing out the various steps in the multibiometric workflow, with the goal of making it possible to implement the technology on a broader basis.
About Naser Damer
Dr. Naser Damer has been with the Smart Living & Biometric Technologies Competence Center at Fraunhofer IGD since 2011. His main research interests lie in the fields of biometrics, machine learning and information fusion, and he has published more than 50 scientific papers in these fields. Dr. Damer is also the principal investigator at the National Research Center for Applied Cybersecurity (CRISP) in Darmstadt. He serves as a reviewer for a number of journals and conferences, and as an associate editor for The Visual Computer, a journal about computer graphics. He represents the German Institute for Standardization (DIN) on the ISO/IEC SC37 biometrics standardization committee.