IAA 2019: Smart servicing with VR/AR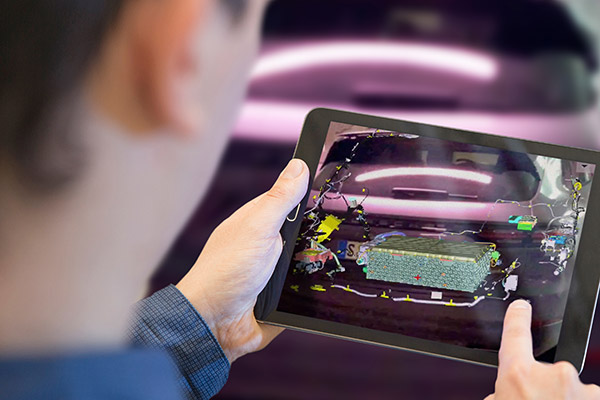 (Frankfurt am Main/Darmstadt) Fraunhofer IGD is presenting solutions for a smart maintenance service thanks to virtual and augmented reality (VR/AR) at the IAA, the International Motor Show Germany. The research institute from Darmstadt has, for the first time, made it possible to run AR applications directly from the cloud. Through real-time comparison with the vehicle's CAD data and the fully automatic access to important information it brings, mechanics can find defective parts even more quickly and have fully automatic access to important information.
The Fraunhofer Institute for Computer Graphics Research IGD is using its instant3Dhub technology as the basis for providing a platform with which it is possible to visualize 3D models of any distribution based on the original CAD data. With this platform, enormous amounts of data can be visualized automatically and swiftly, regardless of the device used -- AR glasses, tablets or smartphones.
Thanks to the integration of the AR tracking library VisionLib, objects are captured in 3D and a fully automatic AR visualization is made possible. The CAD data remains stored exclusively in the infrastructure of the originating company while only the data relevant to the current visualization is transmitted to the mobile device (e.g., smartphone, tablet, data glasses) in real time. This makes unnecessary the time-consuming and interactive reduction of the data by IT experts, which often results in valuable semantic details being lost. This makes it possible to use AR easily and routinely in the context of industry 4.0 or a digital twin.
At IAA, a live scenario at the Fraunhofer stand will demonstrate the advantages to mechanics. Using a Porsche Cayenne, the scenario will show how a service technician can use a tablet to find defective parts in a car in seconds. Important information for repair processes that are becoming increasingly complex are shown on the display alongside metadata such as high-voltage warnings or bolt torques, making it easier to make repairs at the garage.