Applied cybersecurity at it-sa 2019
Europe's largest IT security convention is just one week away.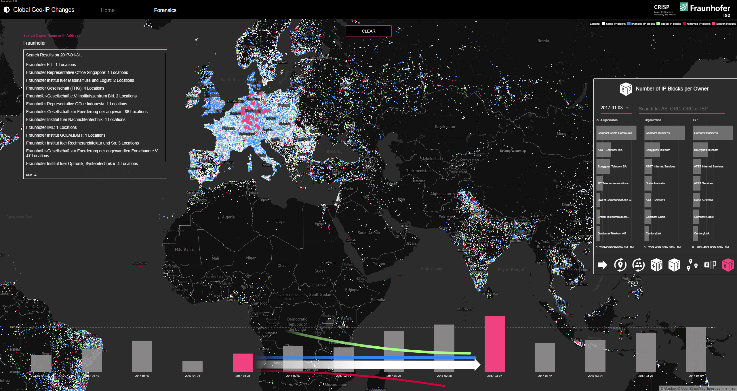 As part of the National Research Center for Applied Cybersecurity in Darmstadt, Fraunhofer IGD will naturally be in attendance, with Prof. Dr.-Ing. Jörn Kohlhammer, head of the Information Visualization and Visual Analytics Competence Center, among our representatives. Prof. Kohlhammer and his team develop solutions, strategies and technology for visualizing crucial data for cybersecurity. Their focus is on the following areas:
Visual interactive analysis of local network traffic
Visualization of global GeoIP changes
Flexible and collaborative data and visualization environment
The National Research Center for Applied Cybersecurity will be present at the career expo, which is being held at the convention for the first time in cooperation with Computerwoche magazine. Meet our researchers at this event or attend the talk by Prof. Kohlhammer.
The event will take place October 8-10, 2019 in Nuremberg. You can find us at the joint Fraunhofer stand, Hall 9, Stand 9-234, together with Fraunhofer SIT, Fraunhofer IOSB, Fraunhofer IOSB ST and the Fraunhofer Academy.
Talk: Visual Analytics for Cyber Security
Date: October 8, 2019
Time: 10.45 am - 11.15 am
Location: Forum 10.1
and also
Date: October 9, 2019
Time: 9 am - 10 am
Location: Forum 9
Cyber attacks often target vulnerabilities on the Internet and disrupt the secure and reliable operation of all services and organizations based on them. Known vulnerabilities can be countered with targeted protective measures. For new, unknown vulnerabilities, on the other hand, forensics and monitoring play an important role in the analysis of cyber attacks in order to avoid further damage. To achieve this, large amounts of data must be processed and visualized in the best possible way. Visual analytics methods that combine automatic data analysis algorithms with new visualization methods to enable experts to interact with these data sets have proven their worth. The lecture will give insights into current and future possibilities of visual analytics in cyber security based on current examples.